This is an archived article and the information in the article may be outdated. Please look at the time stamp on the story to see when it was last updated.
SAN DIEGO — A cold Pacific low pressure system will arrive in San Diego County later Thursday, bringing heavy snow and gusty winds to the mountains and rainfall everywhere else, forecasters said.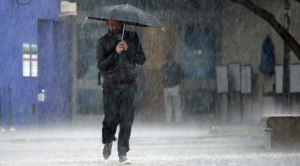 The National Weather Service issued a 24-hour winter storm warning for mountain areas above 4,000 feet starting at 10 p.m. During the warning period, four to eight inches of snow accumulation is expected between 4,000 and 6,000 feet, while eight to 12 inches of snow accumulation is expected at and above 6,000 feet.
Mountain areas will also be buffeted by winds of 15 to 25 mile per hour gusting at up to 40 mph between late tonight and Friday night, according to the weather service.
"Travel will be hazardous due to slippery roadways and poor visibility in heavy snow, blowing snow and fog," an NWS advisory said, noting motorists should be particularly careful on the mountainous stretch of Interstate 8.
In addition to snow, the mountains are expected to receive up to two inches of rain from the storm. Coastal and western valley areas will see a up to an inch, according to the weather service.
The agency also said isolated thunderstorms with small hail and brief heavy downpours were possible Friday.
"The precipitation will taper off late Friday night with a few lingering showers into Saturday," according to an NWS advisory.