This is an archived article and the information in the article may be outdated. Please look at the time stamp on the story to see when it was last updated.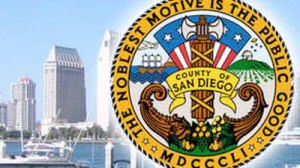 SAN DIEGO — Leaders of business, community and arts organizations began making pitches for funding to the Board of Supervisors Monday, on the first day of public hearings on San Diego County's proposed $4.97 billion budget for the upcoming fiscal year.
The county helps fund numerous organizations. Among those making presentations were chambers of commerce from several cities, organizers of festivals and other community events, the Cygnet Theatre in Old Town and the Downtown San Diego Partnership.
The proposed budget would increase spending in the fiscal year that begins July 1 by 2.5 percent over the current year, and would provide funding for the equivalent of 16,601 full-time jobs, an increase of 3.7 percent.
Most of the new positions would be in public safety and the Health and Human Services Agency, both of which would receive spending increases. The proposal calls for public safety to get a 4.4 percent boost to pay for more detention staff, operate the expanded women's jail for part of the year, and make higher retirement contributions.
Health and Human Services would get an extra 3.6 percent to pay for changes to various programs and add staff. The Land Use and Environment, and Finance and General Government sectors would also get more money.
Funding for capital projects is set to decrease by almost 39 percent. However, infrastructure spending varies widely from year to year because of the way the county funds its projects.
Work that would be funded in the next fiscal year are libraries in Alpine and Imperial Beach, renovation of the assessor's branch office in El Cajon, $9.8 million in debt service for the Edgemoor Skilled Nursing Facility in Santee, and $10 million for the county's Multiple Species Conservation Program.
Chief Administrative Officer Helen Robbins-Meyer called the spending plan one of "modest growth" when she presented it to the supervisors.
Robbins-Meyer said the county faces several risks, including a "fragile" economy, unemployment that remains high despite recent job gains, and uncertainty over sequestration spending cuts by the federal government, plus the impact of the Affordable Healthcare Act.
She also said the state Legislature was preparing bills to shift higher health care costs onto counties.
The county, which plans its budgets two years at a time, also has proposed spending $4.81 billion in 2014-15.
The budget hearings are expected to last three days. Deliberations and a vote on the spending plan are scheduled for June 25