This is an archived article and the information in the article may be outdated. Please look at the time stamp on the story to see when it was last updated.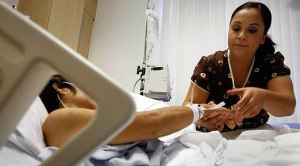 About 5 million Californians got a first glimpse at what they might pay next year under the federal healthcare law. For many, that coverage will come with a hefty price tag.
Compared with what individual policies cost now, premiums are expected to rise an average of 30% for many middle-income residents who don't get their insurance through their employers.
Alternatively, lower-income consumers will reap the biggest savings and are projected to save as much as 84% off their coverage thanks to federal subsidies.
The figures were released Thursday by Covered California, the state agency charged with implementing the federal Affordable Care Act. They underscore the harsh reality that costs for some consumers will have to rise in order to carry out the biggest healthcare expansion in half a century.