This is an archived article and the information in the article may be outdated. Please look at the time stamp on the story to see when it was last updated.
SAN DIEGO– Superhuman vision may be closer to reality now that researchers at University of California San Diego are working on special contact lenses that could double vision by blinking.
UCSD scientists have developed a prototype for telescopic contact lenses. The scientific breakthrough could be a huge help to the elderly and others suffering from degenerative eye diseases.
"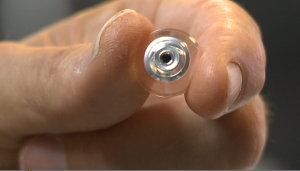 We've built a small, very low magnification telescope," Electrical & Computer Engineering Professor Joseph Ford said. "It's like looking through binoculars."
The telescopic contact lenses magnify vision using tiny reflective rings that increase the light going into the eye. With the help of glasses similar to the ones used for 3D TV's, you could blink and get 2.8 times normal vision.
"People who have macular degeneration, people who can't see very well. They can't see details in the direction they're looking," Ford said. "To give them a low magnification telescope allows them to see better what's going on."
Ford and his team have been developing the technology for nearly eight years.
The research was funded by a grant from the U.S. Defense Advanced Research Projects Agency and it doesn't take much to see how these would help on the front lines.
"It's exactly like you were looking through field glasses or low magnification binoculars, except you don't have to hold them and they're automatically aligned with wherever you look," Ford said.
UCSD its partners just finished the first round of testing.
They know the lenses work, but they need to develop a blink sensor for the glasses and find a comfortable material.
"The next step right now is to make is wearable by a person. Let them be fully mobile, able to wear the switching glasses and be outside interacting with their environment," Ford said.