This is an archived article and the information in the article may be outdated. Please look at the time stamp on the story to see when it was last updated.
SAN DIEGO – San Diego State head coach Tony Gwynn left the baseball team about 4 weeks ago after cancer treatments caught up with him, according to an athletic department official Monday.
The sports information director for the baseball team said Gwynn had been getting treatments for cancer on Mondays and decided to take time off.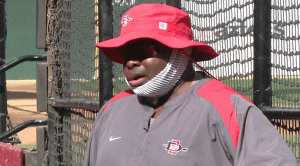 Since the 53-year-old left the team, there hasn't been any word on when, or if, he will return to the Aztecs, the sports information director said.
Mark Martinez has taken over as interim head coach, just as he did back in 2012 when Gwynn had surgery to remove a tumor from his cheek.
Gwynn has battled numerous health issues, including cancer of a salivary gland, which he had both lymph nodes removed in 2010. He attributed his cancer to dipping tobacco.
The Hall of Famer, nicknamed Mr. Padre, retired from MLB in 2001 after 20 years seasons of playing for the San Diego Padres. Gwynn was considered one of the most consistent hitters in baseball history.
Gwynn has coached the Aztecs for 12 seasons.
The Aztecs have a 28-12 record and play Cal State Northridge Tuesday at Tony Gwynn Stadium.