This is an archived article and the information in the article may be outdated. Please look at the time stamp on the story to see when it was last updated.
SAN DIEGO -- A free new smartphone app can help people find out whether someone is reportedly sick in their city.
Sickweather uses a patent-pending algorithm program to collect updates from Twitter, Facebook and other social media websites to detect where an illness is being reported.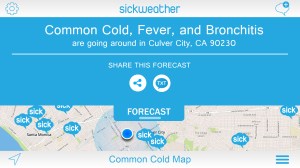 "It's like the Doppler radar for sickness," said Sickweather CEO Graham Dodge. "We include geotag data that is street-level data, essentially, so you can zoom in all the way down to the street on a map to see where the information is coming from."
For example, if someone uses a hashtag for "flu" or tweets that their child is home with chickenpox.
But how can status updates be considered a reliable source of information? What if someone has the wrong diagnosis or is lying about being sick?
"When the [Centers for Disease Control and Prevention] provides the surveillance for flu season…that's the clinical gold standard of data that we are able to access and measure against, and we found that our data has a 0.96 correlation to CDC's flu data out of a perfect 1.0," Dodge said.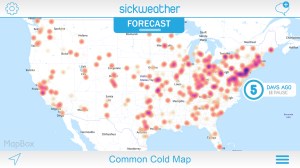 Though the app only uses information from people active on social media, so far it has a 90 percent accuracy rate.
In 2012, Sickweather was recognized among "100 Brilliant Companies" by Entrepreneur Magazine and featured on the Today Show for successfully identifying the early start of the 2012 flu season six weeks before the CDC.
"And that's when it occurred to me that social media could be used as a real-time source for data," Dodge said.
The app is free to download and is available in all English-speaking cities around the world.