This is an archived article and the information in the article may be outdated. Please look at the time stamp on the story to see when it was last updated.
SAN DIEGO – While an American infected with the deadly Ebola virus receives treatment in Atlanta, hospitals around the country, including San Diego, have been quietly preparing.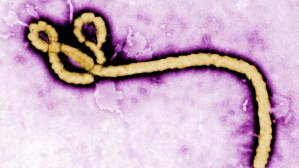 Dr. Gonzalo Ballon-Landa, chairman of Group To Eradicate Resistant Microorganisms, and about a dozen other doctors including a representative from the CDC gathered last week to make sure San Diego hospitals are ready as a quarantine station in the unlikely event of a deadly outbreak.
"The main thing we want to do is prevent the population from panic," Ballon-Landa said. "It doesn't go to the normal lab. It goes to the CDC – not even the state lab is going to be able to handle it."
The protocol for hospital workers is to identify anyone who complains of severe flu-like symptoms and has recently visited West Africa. Those individuals would immediately be placed in an isolation unit. But county health officials' stress, Ebola, in particular, is not easily transmitted.
"You have to be exposed to blood or vomit on you or your eyes, it isn't just coughing. You cannot pass it to someone from coughing on them," Ballon-Landa said.
The two Americans, were first treated in Liberia, with an experimental serum, ZMapp, developed, in part, by Mapp Biopharmaceuticals based in Sorrento Valley.
They declined our request for an interview, but issued a statement that reads in part:
"… Any decision to use an experimental drug on a patient would be a decision made by the treating physician under a regulatory guidelines of the FDA."
This so-called "secret serum" was developed in collaboration with two San Diego companies and another Canadian company expressly to fight infectious diseases like Ebola, but had not yet been evaluated for human safety, leading some doctors to say they are not yet convinced this cocktail of drugs took away symptoms or if the virus just ran its course.