This is an archived article and the information in the article may be outdated. Please look at the time stamp on the story to see when it was last updated.
LA JOLLA, Calif. — Scientists at the Salk Institute for Biological Studies have developed a drug that slows Alzheimer's in mice.
Researchers said the drug, known as J147, reverses memory deficits and slows the disease in aged mice following short-term treatment. They said it's the first drug of its kind to do more than just treat the disease symptoms.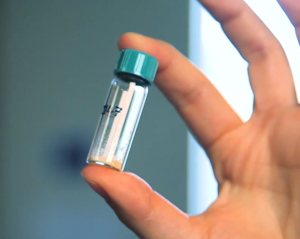 "All of the currently approved treatments for Alzheimer's," said Marguerite Prior, Salk research associate. "Just manage the symptoms of Alzheimer's, so the memory problems, and they do so for a short period of time. They eventually stop working."
A release from the Salk Institute describes the process scientists used in developing J147:
"To test the efficacy of J147 in a much more rigorous preclinical Alzheimer's model, the Salk team treated mice using a therapeutic strategy that they say more accurately reflects the human symptomatic stage of Alzheimer's. Administered in the food of 20-month-old genetically engineered mice, at a stage when Alzheimer's pathology is advanced, J147 rescued severe memory loss, reduced soluble levels of amyloid, and increased neurotrophic factors essential for memory, after only three months of treatment."
The new drug is giving hope to families battling the disease.
Sondra Robinson is still in the early stages of Alzheimer's, but her daughter, Lori Register, will never forget when the disease first became evident.
"She wasn't my mom," said Register. "She became a different person overnight and it was scary. It was like who is this mean person?"
Robinson now lives at Vista Gardens Memory Care Community, where she is taking regular medication and doing much better.
"She takes Aricept and she's done very well on it," said Register. Robinson is, for the most part, back to her old personality. She's social, happy and keeps a smile on her face. But with Alzheimer's it's impossible to tell what each new day brings.
Register's real dream for her mother is a drug that cures the disease, instead of just treating the symptoms. She was excited to hear about the potential J147 has.
"It would be a miracle," said Register.
The next step is clinical trials on humans, but that could be years in the making.
"That requires a certain amount of work, pre-clinical work, before you can do that," said Prior. "That costs about $1.5 million dollars, so right now we're trying to get the money to go ahead and get started with clinical trials."
The findings on J147 are in the current issue of the journal Alzheimer's Research and Therapy.