This is an archived article and the information in the article may be outdated. Please look at the time stamp on the story to see when it was last updated.
SAN DIEGO—Fighting cancer is difficult at any age, but it's especially hard for children and their families.
The Integrated Medicine Program at Rady Children's Hospital combines Eastern treatments with western medicine to help young cancer patients with the side effects of chemotherapy.
Monica Rocha was diagnosed with leukemia last September and since then the 14-year-old spent almost half the year in the hospital.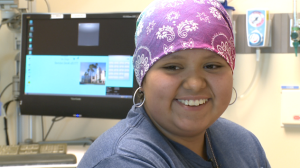 The chemotherapy has also taken a toll on her body. She's suffered extreme nausea and fatigue.
"For six month she gave herself a shot in the stomach twice a day," Monica's mother Gabriela Martinez said. "Her stomach was purple."
Sometimes Rocha takes more than 30 pills a night, but thanks to a few little needles she's getting a big relief without more medicine.
"[Acupuncture] calms you and then like slowly you fall asleep," Rocha said. "You actually don't notice that you have the needles in."
Acupuncture is just one of the alternative therapies offered in the Rady Children's Hospital Integrated Medicine program.
"The way that we see the body in Chinese medicine is that it's all connected," Rady Children's Hospital Director of the Acupuncture Service Aaron Cook said. "I might pick a point on the hand that might actually influence the digestive system."
The hospital also offers a yoga, meditation, massage therapy, hypnosis and cooking classes for nutrition therapy. Hundreds of kids have benefited.
It started thanks to a grant in 2005, but now volunteers and community donations keep it going.
"If we can get the patient back to what they love to do most with their families then we've really done a good job here," pediatric nurse practitioner Jeanie Spies said.