This is an archived article and the information in the article may be outdated. Please look at the time stamp on the story to see when it was last updated.
SAN DIEGO – A random seating assignment at Qualcomm Stadium led to a lifelong friendship and a lifesaving surgery.
William Charlton Lynch and Louis Munoz first met playing little league as children. Many years later, the two crossed paths again totally by chance at a Chargers game at Qualcomm Stadium.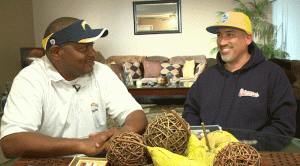 "As I was walking to my seat I happened to notice him sitting right in the seat next to mine," said Munoz.
The season ticket holders were randomly placed side by side and, through the ups and downs of Chargers football, a friendship began to grow.
"It's just a joy coming to the seat and knowing whose going to sit next to you," said Munoz.
After several years of cheering together at the games, everything changed last season.
"He missed quite a few games and I was wondering what was going on," said Munoz.
It turned out Lynch had been fighting a kidney disease for much of his life and the effects were getting worse.
"They told me one day I would be on dialysis and I would need a transplant," said Lynch.
Without hesitation Munoz offered to get tested to be a donor.
"He's a friend," said Munoz. "Why wouldn't you help out?"
Lynch didn't get his hopes up, because donors had fallen through in the past, but that changed when Munoz was determined to be a match and he didn't back out.
"I'm just lucky that he stepped up and did everything he was supposed to do," said Lynch.
In October 2013, the two arrived at UC San Diego for the kidney transplant. Hospital officials said the transplant surgery was performed in two phases in adjacent operating rooms.
What started as a friendship has made the friends family.
"We'll be brothers for life," said Lynch.
With a new outlook on life, they hope their story will encourage others to consider organ donation.
"Don't be afraid," said Munoz. "It's two months of downtime to give somebody 20 more years."
Lifesharing, a division of UC San Diego Health System, is the federally-designated, non-profit organ and tissue recovery organization serving San Diego. You can register to be a donor at the Department of Motor Vehicles. A Spanish website is availablw.