This is an archived article and the information in the article may be outdated. Please look at the time stamp on the story to see when it was last updated.
SAN DIEGO – A San Diego doctor is making headlines for creating a drink that's improving the quality of life for anyone whose about to have surgery.
Seventeen years ago, Dr. M. Lou Marsh came up with an idea to produce a nutritious drink that would prevent patients from experiencing hunger and dehydration when they fast before surgery.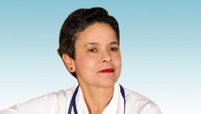 "We were literally starving them and dehydrating them. I thought, there's got to be a better way," said Marsh.
Marsh came up with a formulation that had everything the body needed.  It was clear and would be quickly absorbed leaving the stomach empty and patient not craving food.
She patented the formula and licensed it a top pharmaceutical company for distribution, but her idea was far ahead of its time.  The medical community wasn't interested, and she couldn't find a beverage maker who was willing to make the drink in small quantities to test it out.  So, the drink was shelved.
Fast forward 15 years, and now the medical community is very interested in ways to improve the pre-surgery experience.
One day in the operating room, she asked a patient on the table  just as he was going under the same question she asks all of her patients to calm them down:  "What would you be doing if you weren't with us today?"
"This young man said, 'I own a beverage company.' I said 'Young man, we've got to talk after you feel better,'" Marsh recalled.
Today, that patient is her business partner.  Together they created Clearfast.
Local plastic surgeon Joseph Grzeskiewicz was sold on the drink when he took it before his own medical procedure and now has all of his patients taking it, too.
"It really made a difference.  It tastes a lot better than I though it was going to taste, but it really helped me in the morning with that feeling of thirst and hunger," said Grzeskiewicz.
Clearfast has been presented and featured at medical conferences for the American College of Surgeons and the American Society of Plastic Surgeons.
"What a thrill to think a thought that I had 17 years ago is going to influence the way people are prepare for surgery everyday across this country," said Marsh.