This is an archived article and the information in the article may be outdated. Please look at the time stamp on the story to see when it was last updated.
SAN DIEGO -- Kevin Inman, an artist who lives in Sherman Heights, is extra careful these days after he nearly lost his life to hepatitis A.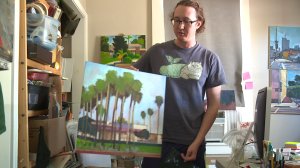 "I got diagnosed after I turned bright yellow, so that's when I went to the doctor," said Inman.
In May, the 37-year-old suddenly started feeling very ill. Before then, he experienced periodic fevers but didn't think it was serious.
He says doctors determined he contracted the illness some time at the end of March and by May, it was all downhill.
"Then I was sick for 60 days," Inman said. "I didn't get fully better until the middle of July so it was a lot of time off for me. I was exhausted at first and then I got super sick and I couldn't get out of bed for a couple weeks."
To this day, it's undetermined how he got the illness, but he has his own determination.
"With the health department I went through, everywhere that I had shopped for food and everywhere that I had eaten out and the conclusion was inconclusive. So probably it's just from the area around here was the conclusion," said Inman.
Although hepatitis A has had a heavy impact on San Diego's homeless population, Inman's circumstance is more unique. He lives in an area where homeless tend to populate. Many of the paintings he showed FOX 5 were also done around town.
"I walk around the city and paint and I painted all kinds of pictures in this area and downtown so it's probably just walking through a contaminated area," said Inman.
San Diego man tells his story of survival after being diagnosed with Hepatitis A. Details @fox5sandiego at 10 pic.twitter.com/DHdwjMLybO

— Felicia Martinez (@FeliciaKSL) October 8, 2017
To date, county health officials said 461 people have become ill and 17 have died in the second-largest outbreak in the U.S.
Inman says awareness on the outbreak back in November would have been nice.
"I had been vaccinated in college but that's been 15 to 20 years," Inman said. "But if I had known to get a booster I wouldn't have gotten sick."
Still, the artist is grateful to be alive and thankful his family and friends didn't contract the illness.
"I was lucky, I was super lucky," Inman said. "I have health insurance so I was fine, but for a lot of other people, it wasn't."