This is an archived article and the information in the article may be outdated. Please look at the time stamp on the story to see when it was last updated.
SAN DIEGO — A 9-year-old girl, who suffers from a congenital disorder which causes her face to be underdeveloped and misshaped, was all smiles Monday as she rode her bicycle for the first time in six months along Mission Bay.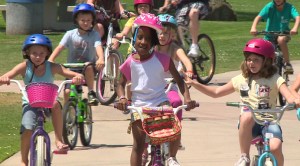 Favour came to San Diego from Nigeria for the opportunity to have that corrected.
"Back home at school she was always teased at school so it was not easy," said her mom Doris Nwuzor.  "All along she's been like, 'Mom when am I having my surgery?'  I said, 'Don't worry.  God is going to do it.  God did this through Fresh Start.'"
Through a children's charity called Fresh Start Surgical Gift, Favour has undergone three reconstructive surgeries.  Her jaw was realigned and her ear reconstructed using cartilage from her ribs.
"She has lived with us the whole time and she has not complained at all during this whole time,"said Fresh Start host family member Matthew Tinney. "I know she's been in a lot of pain."
Favour hasn't been able to ride her bike for six months because of the surgeries.  On Monday, she was able to get on a bike for the first time in months and ride with her friends along Mission Bay.
"I feel so excited," she said. "I get to ride my bike."
According to the Fresh Start website, the organization has served more than 6,100 patients.  Favour will have
to undergo more surgeries, but for now, she's enjoying being a kid who loves to ride her bike.
"Her self-confidence is back and she's glad most times," said Doris Nwuzor.  "She just hugs me and says, 'Mommy, thank you for bringing me down to this place.'"