This is an archived article and the information in the article may be outdated. Please look at the time stamp on the story to see when it was last updated.
SAN DIEGO – A local husband and wife became the first couple in the country to each donate a kidney through the National Kidney Registry.
"Saving your kidney for a rainy day is like saving your fire extinguisher while watching your neighbor's house burn," Alexis Wesley said.
It's that type of thinking that lead Alexis Wesley and her husband Charles to a Sharp Memorial Hospital room. Alexis Wesley had surgery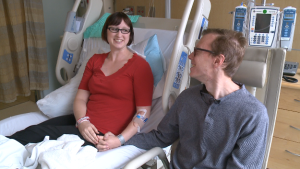 Monday night.
"It is really easy and a really, really simple way to save someone's life," Wesley said.
The impact of her decision is anything but simple. Alexis and Charles Wesley made history when they used the National Kidney Registry to save 10 lives.
The non-profit connects patients with compatible donors through exchanges.
The Wesley's donation set in motion two transplants in California, two in Maryland, as well as one in Ohio, Pennsylvania and New York.
"I don't really need to meet the person," Alexis Wesley said. "I just wanted to know if his transplant was successful."
The couple relies a lot on faith and their family has received a lot of medical help themselves.
Both of their children have a rare joint disorder arthogryposis and the kids had several free surgeries to help them walk.
When Charles Wesley read an article about donating he decided it was the perfect way to return the favor.
"You give up maybe three or four weeks of your life in terms of having to go through recovery but you can extend someone else's life by 10 or 15 years," Charles Wesley said. "I really wanted to be the person that was willing to do that."
Charles Wesley had surgery April 2012 and thanks to a less invasive technique he was back to normal in two months.
"When I started 25 years ago, we would cut people in half to get the kidney out," Sharp Surgical Director of Transplantation Dr. Barry Browne said. "Now, we take the kidney out through a couple of keyhole incisions and people go home in two days."