This is an archived article and the information in the article may be outdated. Please look at the time stamp on the story to see when it was last updated.
SAN DIEGO – Patient care may be in jeopardy as the hospital industry is being struck with a double-edged sword known as sequestration and healthcare reform.
President and CEO of Scripps Health Chris Van Gorder said the healthcare cuts are not just in San Diego, but across California and the country.
"Medical is being cut in the state of California," said Van Gorder.  "We were already seeing cuts from Medicare reimbursement, but then we ended up getting sequestration."
Lynn Reaser, chief economist with the Fermanian School of Business at Point Loma Nazarene University has been studying the effects of sequestration.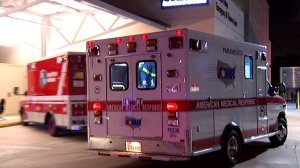 "Hospitals are very concerned about what kinds of cuts they might see in their funding reimbursement rates," said Reaser.  "It's one major source of uncertainly already seeing some cutbacks."
"We don't know exactly what the budget will look like for next year or the next decade," Reaser said.
The uncertainty has already reached into many local hospitals.  UCSD Medical Center told Fox 5 of the approximately 6,000 employees, about 1 percent of the total workforce was cut.
"In May, in response to the healthcare reform, we took the difficult yet necessary step of reducing 50 full-time positions," said Michelle Brubaker, UCSD Medical Center spokeswoman.
The newly built Palomar Medical Center in Escondido expects 84 employees will be affected by the rapid changes in healthcare by July 26.
"In an effort to better position the organization for the future, Palomar Health has reduced its workforce by 2 percent," said Leonel Sanchez, Palomar Medical Center media relations manager.  "This reduction will provide for more efficient staffing following a year of significant transition with the opening of new Palomar Medical Center."
Tri –City Medical Center spokesman David Bennett reported a workforce reduction by 67 employees.
"The medical center has adjusted to Medicare cuts where it can, while maintaining the highest quality of care to patients," said Bennett.
"For Scripps Health it's a $13 million reduction in reimbursement every year," said Van Gorder.
Van Gorder said at Scripps, they are doing their best to absorb the punches, but they're using a different approach.  No layoffs.
"What we're really doing is managing the non-labor cost," said Van Gorder.  "Having our managers and our doctors working together we're finding plenty of opportunity to cut costs without resorting to layoffs."