This is an archived article and the information in the article may be outdated. Please look at the time stamp on the story to see when it was last updated.
SAN DIEGO — The City Council could vote on new regulations for medical marijuana dispensaries in San Diego at its Feb. 25 meeting, Interim Mayor Todd Gloria said Thursday.
The panel has addressed the issue numerous times since California's Compassionate Use Act was approved by voters more than 17 years ago.
Zoning and operating guidelines passed in 2011 were rescinded after medical marijuana advocates collected enough signatures to force council reconsideration.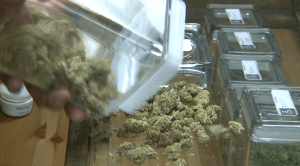 The advocates considered the 2011 regulations too restrictive, but taking them off the books had the effect of making all dispensaries within city limits illegal. The interim mayor said the restrictions in the plan to be considered later this month are even tighter.
"Cooperatives must be separated from public parks, churches, child care centers, playgrounds, residential care facilities, schools and other cooperatives by a distance of a thousand feet," Gloria said of the proposed ordinance. "Cooperatives must apply for a conditional use permit with a five-year expiration."
The proposal also calls for a 100-foot buffer from residential zones and would prohibit having on-site medical professionals, to prevent dispensaries from becoming "one-stop shops," Gloria said.
He estimated that, based on digital mapping by the San Diego Association of Governments, around 30 dispensaries would be allowed in San Diego. Most would be in the major industrial zones of Kearny Mesa and Otay Mesa, but some would be in each council district in the city except his own — which would have none.
As a city councilman, Gloria represents downtown, Hillcrest and North Park, which he said are mostly mixed-use commercial and residential neighborhoods.
He said the city's Planning Commission passed the proposed regulations, with one dissenting commissioner who thought they were too restrictive.
Medical marijuana advocates seem "more cognizant of reality" than they were three years ago, according to the interim mayor. The City Council shot down looser restrictions proposed last year by former Mayor Bob Filner.
The proposed regulations are the result of subsequent council direction, and they went through public vetting during the fall.
Since Gloria took over from Filner Aug. 30, the city has received 34 complaints about dispensaries operating illegally. Of those, only six are believed to still be around, he said.
But while the ordinance would permit dispensaries to reopen, it cannot protect these from being raided by federal agents. Using marijuana, even for medical purposes, is still illegal under federal law.