This is an archived article and the information in the article may be outdated. Please look at the time stamp on the story to see when it was last updated.
CARDIFF BY THE SEA, Calif. – Often a time comes when adult children reverse roles with their parents and start making decisions for their loved ones.  When it happens, the decisions that need to be made are not easy ones.
About 35 million Americans are 65 years old and older and that number is expected to double by 2030, according to the National Center for Health Statistic Resources for Older Americans.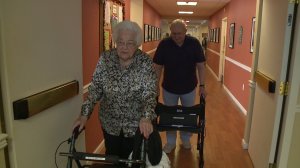 There are more than 500 assisted living facilities in San Diego County and they range in size, services and cost.  Choosing where family members should be placed can be quite daunting.
Referral specialist Sandy Lieberman works with families as a consultant and helps them decide their priorities and what type of facility will fit their needs. She is like a realtor for senior care.
"When we love someone, sometimes we think we know best for them, but sometimes we don't. We don't know what they want and the difficult part is managing to get them the care and support they need and still respect their independence and it's a tough one," Lieberman said.
Lieberman's client Susan Harrison helped move her parents, Molly and Sy Miller, into an assisted living home a year ago. Last fall, both of her parents fell ill and were rushed to the hospital within two weeks of each other.
"I had to find someplace quick because I did not think that going home was the right thing for them anymore," said Harrison. "When they were discharged from the hospital, the doctors did not give them a good prognosis or good outcome."
Harrison had started looking for care facilities even before her parents were hospitalized, so she had some idea of the options available, but she said the process, especially having to make a quick decision, was still overwhelming.
"It was unbelievably stressful. First of all, I had to figure out what I had to search for on Google. I knew safety and health, but beyond that, I really needed an education," Harrison said.
That's where Lieberman came in. She visited Harrison and spoke with her parents to really get an idea of their desires and what type of care they needed.
Harrison ended up choosing Belmont Village in Cardiff, a facility specializing in independent and assisted living as well as memory care. Prices range from $4,150 to $7,430 a month.  It's the higher-end of senior care facilities offering 24-hour nurses and a wide range of activities and services.
Choosing Belmont wasn't as difficult as telling her parents they were leaving their home, Harrison said.
"It was horrible, just horrible. My father was still very ill but understood he could not go home. My mother, although ill, felt she was strong enough to go home, but from what doctors told me, it was evident she was not strong enough to go home," Harrison said.
"I wasn't happy because I wanted to go home. We still had our house and when we came here my reaction was horrendous," Molly said.
Almost everyone in the elder care industry admits eliminating a senior citizen's independence is the hardest part of the transition.
"I could not accept the displacement and I couldn't accept being amongst all the old people, that were my age by the way, who I didn't want to be with," said 90-year-old Molly.
Belmont's sales director Christy Christine said the decision on where to put a loved one is an emotional one, yet also needs to be strategic.
"Families really need to understand their parents needs and where they are in their life now and where they are in the future. They should know if that community is situated to represent and meet those needs now as well as down the road," Christine said.
Michal Hamui's mother, Lilian, also had difficulty. Hamui remembers telling her parents they could no longer live at home after her mother's stroke and subsequent lapses in memory.
"I was definitely fighting the idea at the time, but there was no way she could come home and walk up and down stairs, and no way she could cook," Hamui said.
One of the main reasons adult children put their parents in a "home" is because of memory issues. Five million Americans are battling Alzheimer's disease and even more are fighting varying degrees of dementia.
Silverado in Encinitas specializes in cognitive impairment and cares only for patients with memory problems.
Dorit Hakak of Silverado said they have patients ranging in age from their mid-50s and older. One of its signature programs for dealing with those memory impairments is pet therapy.
Silverado has two horses, a chinchilla, a guinea pig, rabbits, turtles, cats and dogs on site. It also encourages seniors to bring their pets with them when they move in.
"It's not just what they can't do anymore, it's about finding things they can do. With the right support it's amazing what people can do and see them thrive and have a sense of joy again," said Hakak.
One of the most popular and less expensive options for families is a board and care facility.
They are typically converted homes with six residents and two caregivers. They normally start at around $2,000 a month.
"I think a major misnomer is that people think Medicaid or Medicare will pay for assisted living. That is not true. The reality is, those are supportive services and often pay only for short term nursing care," Lieberman said.
That means, a majority of care facilities are paid for out of pocket and the financial burden can be overwhelming.
After going through the process, Harrison said the biggest piece of advice to other adult children with aging parents is "make a plan. Know your parent's desires, their finances and your financial situation because when the time comes, it's stressful enough."