This is an archived article and the information in the article may be outdated. Please look at the time stamp on the story to see when it was last updated.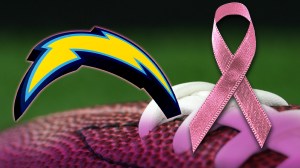 SAN DIEGO — The San Diego Chargers will host an event at Qualcomm Stadium Tuesday to provide free mammograms to uninsured women as part of Breast Cancer Awareness Month.
A total of 70 exams will be given to uninsured women ages 40 and older, but if additional women show up, they will receive a mammogram on a later date, according to the Chargers. Women under 40 needing assistance will be directed to another program providing the needed help.
"Breast Cancer Awareness Month is a cause that really hits close to home for me," said A.G. Spanos, the Chargers' executive vice president and chief executive officer. "My mom is a breast cancer survivor and from her experience I know how vital early detection can be."
The mammograms will be provided from 9 a.m. to 5 p.m.
Women may call (619) 508-8088 for more information.