This is an archived article and the information in the article may be outdated. Please look at the time stamp on the story to see when it was last updated.
MISSION BEACH, Calif. — Volunteers collected over 1,700 pounds of trash and recycling goods from San Diego beaches over the weekend, a number that the Surfrider Foundation called significantly less than in years past.
Nearly 650 volunteers gathered Saturday morning as part of the Surfrider Foundation's annual 'Morning After Mess' post-holiday cleanup events at Ocean Beach Pier, Belmont Park in Mission Beach, Crystal Pier in Pacific Beach and the Oceanside Pier.
The Surfrider Foundation San Diego County Chapter and volunteers teamed with I Love a Clean San Diego and San Diego Coastkeeper to collect 1,410 pounds of trash and 326 pounds of stuff to be recycled at the four beaches between 8 a.m. and 11 a.m. on Saturday.
Haley Haggerstone, manager of the Surfrider Foundation's San Diego County Chapter, said the group was pleased with the number of volunteers that showed up to the four locations.
"We are also pleasantly surprised with the amount of trash that was collected," Haggerstone said. "There was a significant decrease in the amount of trash collected this year when compared to the last few years."
Haggerty said that volunteers also collected 489 plastic bags, 983 pieces of Styrofoam and 14,796 cigarette butts. The most trash was collected on Ocean Beach, where volunteers collected 621 pounds, Haggerty said. Volunteers at Mission Beach collected the most goods for recycling with 200 pounds, and the most cigarette butts: 7,636.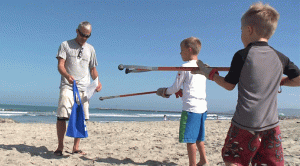 Haggerty said the most unusual items found included underwear, a butcher knife, salt and pepper shakers, dental floss and a fake mustache.
A group called H2O Trash Patrol staged a water-based cleanup with the use of stand-up paddle boards in the San Elijo Lagoon. Patti Diaz, an organizer for the group, said 22 volunteers helped pull more than 175 pounds of trash out of the lagoon, mostly glass liquor bottles. Diaz said the group also found a vehicle's catalytic converter.