This is an archived article and the information in the article may be outdated. Please look at the time stamp on the story to see when it was last updated.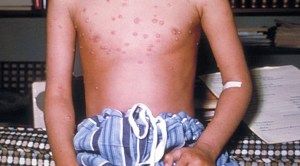 SAN DIEGO – A person who visited the North Coastal Family Resource Center in Oceanside has chickenpox and may have exposed others, the San Diego County Health and Human Services Agency reported Wednesday.
People who were in the waiting room of the facility at 1315 Union Plaza Court between 2 and 3:30 p.m. Monday may have been exposed, according to the HHSA. No information about the ill person was released.
"Exposed individuals who have not had two doses of varicella vaccine, or who have not had chickenpox, should contact their medical provider for an evaluation," said Dr. Wilma Wooten, the county public health officer. "Your doctor may recommend that you receive a dose of varicella vaccine which can often prevent getting chickenpox or minimize the severity of symptoms if you do become ill."
Chickenpox is a contagious disease caused by the varicella virus, according to county health officials. They said it is easily spread by coughing, sneezing or contact with chickenpox blisters.
Vaccination can prevent the spread of the disease and associated complications, according to the HHSA. The U.S. Centers for Disease Control and Prevention recommends two doses of chickenpox vaccine for all people one year of age and older who have no evidence of immunity for the disease. Ninety-nine percent of people develop immunity after two doses.
Symptoms of chickenpox include a skin rash of blister-like lesions, covering the body but usually more concentrated on the face, scalp and torso. The risk of complications increases after puberty and includes bacterial infection of skin lesions, dehydration and pneumonia.
Most, but not all, infected individuals have fever, which develops just before or when the rash appears, the agency said.
According to the HHSA, fully vaccinated people are well protected and do not become ill if they are exposed, though some may get a milder illness, with less severe rash — sometimes involving only a few red bumps that look similar to insect bites and mild or no fever.
The incubation period is from 14-16 days from exposure, with a range of 10-21 days. The illness lasts about 5-10 days.
More information on chickenpox and immunizations in general can be found online at www.sdiz.org, or by calling the HHSA Immunization Branch at (619) 692-8661.