This is an archived article and the information in the article may be outdated. Please look at the time stamp on the story to see when it was last updated.
SAN DIEGO – A billboard that's sparking mixed reaction is coming soon to San Diego.
The advertisement, for an anti-snoring product called SnoreStop, features a U.S. soldier embracing a Muslim woman with the slogan "keeping you together."
The billboard is already on display along Sunset Boulevard in Los Angeles.
P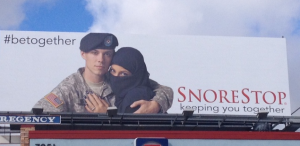 eople are turning to social media with their reaction to the billboard. One person called it "offensive." Another said it is "a slap in the face to our military."
The company, however, said the ad is meant to reflect tolerance and executives said they recognize their customers are diverse. SnoreStop officials said they searched for real couples that aren't typically featured in commercials.
"We wanted one image that summarizes the whole campaign," said Melody Devemark, VP of Communications SnoreStop.
Veteran Jamie Sutton and his Muslim wife, Aleah, inspired the ad. Officials said the models, U.S. soldier Paul Evans and his Muslim girlfriend are also a real couple.
Evans is already speaking out about the controversy. In a Facebook post he wrote, "I did this because I am no stranger to other people's discrimination."
Many people are questioning what the advertisement has to do with an anti-snoring product. The company said it's because the product helps keep couples together.
"It's ironic, because so many couples have gone through so many struggles just to be together," said Devemark. "And something like snoring keeps them apart on a nightly basis."
The company has not disclosed the location of the San Diego billboard, but said it will be up in mid-November.
The family-owned business is based out of Camarillo, California.