This is an archived article and the information in the article may be outdated. Please look at the time stamp on the story to see when it was last updated.
The Federal Aviation Administration is investigating a version of the "Harlem Shake" performed on a Frontier Airlines flight from Colorado Springs to San Diego earlier this month.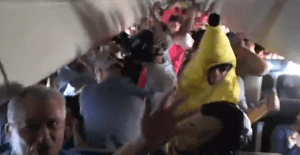 The video starts with a member of the Colorado College Wasabi Ultimate Frisbee team dancing solo in the aisle. Then the rest of the team and practically the entire plane join in on the dance moves. Some are even wearing costumes including a banana suit and an Abraham Lincoln mask.
The video is now a YouTube sensation with more than 430,000 views since it was posted February 15.
Authorities are now investigating whether any safety regulations were broken during the taping on Frontier Flight 157.
A Frontier Airlines representative said, "All safety measures were followed and the seat-belt sign was off."
Still, the FAA is now involved and officials released this statement: "We are looking into the incident and are in touch with the airline to determine the exact circumstances surrounding the video. Until we know that, we wouldn't be able to determine whether any safety regulations were violated."
Some passengers Fox 5 spoke to at Lindbergh Field said if the "Harlem Shake" happened on their flight they'd probably join in.
"It would be pretty hard to resist," said Brian Lutz.
"I would probably run to the back and run forward and go crazy," said Zoren McKiernan.
Interestingly, just a couple days prior, Frontier Airlines released a commercial on the airline's YouTube page featuring the same dance craze. The caption under the video reads: "How do our flight crews pass the time during a layover? Two words: Harlem Shake."
The student who taped the dance spoke to the Colorado College newspaper  "The Catalyst." Matt Zelin is quoted, "I don't see there being any reason why this should cause any trouble. We asked the staff and they said it was safe."