This is an archived article and the information in the article may be outdated. Please look at the time stamp on the story to see when it was last updated.
SAN DIEGO — In a televised interview slated to air Thursday, 16-year-old Lakeside kidnapping victim Hannah Anderson revealed more details about what she endured at the hands of a family friend-turned-tormentor.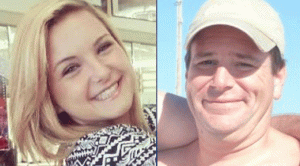 Among the abuse inflicted on the El Capitan High School junior by Boulevard resident James Lee DiMaggio two months ago was a forcible game of Russian roulette with a gun he was wielding, Hannah told "Today" show anchor Savannah Guthrie.
"When it was my turn, I started crying and, like, was freaking out," she said. "And he said, `Do you want to play?' And I said, `No.' And I started crying, and then he's, like, `OK.' And he stopped."
In a preview of the interview released Tuesday, the NBC morning news program quotes Hannah as saying DiMaggio — whom she had known her entire life and thought of as an uncle — put his kidnapping plan into motion after driving her to his back-country home on Aug. 3.
"When I got into the house, he handcuffed me and zip-tied my feet and then sat me down on the couch and told me what his plan was," she told Guthrie. "He told me he was going to kidnap me and take me to Idaho, where my (task) was just to carry his backpacks to the river, and that he was gonna live there. And then he'd get me home afterwards."
DiMaggio told her that her mother, 44-year-old Christina Anderson, and 8- year-old brother, Ethan, also were in his log cabin-style residence and unharmed, Hannah said.
In truth, the 40-year-old DiMaggio already had killed them and rigged his house and garage to explode into flames, according to investigators. Firefighters found their badly burned bodies in the embers of the buildings the next day.
A weeklong nationwide search then commenced for Hannah. On Aug. 10, authorities tracked her and the suspect down in an Idaho wilderness preserve, where DiMaggio was killed in a shootout with FBI agents.
Hannah told Guthrie she was "sick" and "disgusted" whenever thinking about DiMaggio, and that she feels he ultimately got what he deserved.
The girl said the intensive search that led to the suspect's death and her rescue not only saved her life, but also had aided in her recovery.
"It helped me keep going through healing, knowing that people were looking for me and that they're on my side," she told Guthrie.