This is an archived article and the information in the article may be outdated. Please look at the time stamp on the story to see when it was last updated.
STOCKTON, Calif. — The wife of Jeremy Meeks, the ex-con whose police booking photo became an Internet sensation last week, is angry over the attention her jailed husband is getting, a friend said.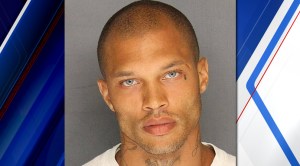 "I wouldn't be surprised if you don't see her at all in the cameras, because she's upset," said Simone Johnson, a friend of Meeks' wife, told CBS13. "She's furious. Her man is in there and people are taking it as a joke, thinking it's funny talking about his looks, saying all kinds of crazy things."
Meeks was charged Friday with illegal possession of a firearm and other gun and gang charges. Prosecutors say he also violated his parole.
After Stockton police posted Meeks' booking photo on the department Facebook page, it quickly went viral, receiving more than 50,000 "likes" before the weekend.
Meeks told KXTV that he did things in the past he is not proud of, but he is not a hardened criminal. He said he spent years in prison for grand theft.
Meeks remains in jail in lieu of $1 million bail.