This is an archived article and the information in the article may be outdated. Please look at the time stamp on the story to see when it was last updated.
UPDATE: Suspect arrested in bloody hammer attack
SAN DIEGO — San Diego police Monday sought a man who struck an employee at a North Park auto repair shop in the head with a hammer 13 times in an apparently unprovoked attack, leaving him critically injured, authorities said.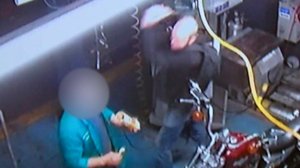 A surveillance camera at Jack's Muffler Service on University Avenue near Mississippi Street recorded images of the suspect as he approached the employee, who was eating alone in the service bay around 8:10 p.m. Sunday, pulled out a hammer and struck the man in the head seven times, San Diego police Officer John Buttle said.
After the victim, Henry Rader, fell to the floor, the suspect looked around the business office, but didn't take anything. He then headed back to the bay and proceeded to hit the victim in the head with the hammer six more times while he was on the ground, Buttle said.
The suspect "calmly" exited the bay, put the hammer in his backpack and walked away on westbound University Avenue, according to the officer. A passerby spotted the injured victim and called 911 shortly after 8:30 p.m.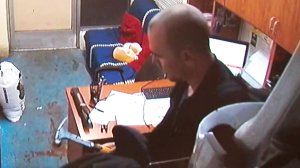 Paramedics summoned to the bloody crime scene found the victim and took him to a hospital to be treated for numerous injuries, including bleeding on his brain, skull and facial fractures, multiple lacerations and missing teeth. Buttle said the victim has been placed on a ventilator and may lose an eye, but doctors did not consider his injuries to be life-threatening.
Police described the assailant as white and 30 to 40 years old with thinning, very short blond hair. He was wearing a black jacket, blue jeans and was carrying a black backpack. What prompted the attack was not immediately determined.