This is an archived article and the information in the article may be outdated. Please look at the time stamp on the story to see when it was last updated.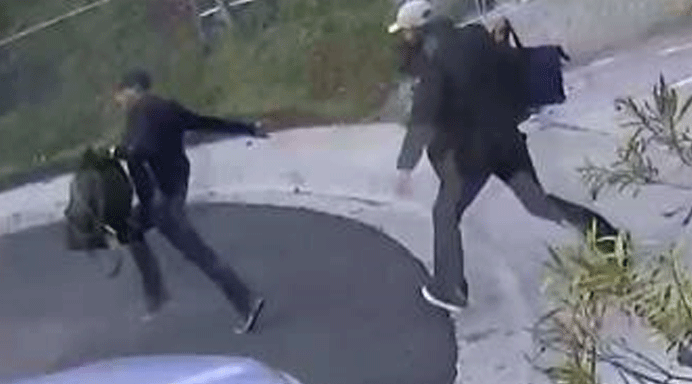 SAN DIEGO — Authorities asked the public Thursday for help in identifying two thieves who robbed a man of more than half a million dollars worth of jewelry on a Del Cerro-area roadside last month.
The pistol-wielding bandits confronted the victim about 3:45 p.m. Dec. 7, as he stood by his car near the intersection of Bernadette Lane and Saint Therese Way, San Diego police said.
The suspects then reached into the vehicle and grabbed two bags containing jewelry before fleeing to the west, police said.
The loss was estimated at more than $500,000, officials said.
The thieves were described as Latinos between 30 and 40 years old, standing 5 feet 8 inches to 6 feet tall. Each was dressed in dark-colored pants and a baseball cap, one white and the other black. One of the men was wearing a blue sweat shirt, and his accomplice had on a gray jacket.
A surveillance camera captured video images of the men.
Anyone with information about the robbery was asked to call San Diego County Crime Stoppers at (888) 580-8477 or contact the agency online at sdcrimestoppers.org. Tipsters may remain anonymous and could be eligible for a reward of up to $1,000.
Download Fox 5 iPhone app  |  Download Fox 5 Android app
RELATED STORIES: