This is an archived article and the information in the article may be outdated. Please look at the time stamp on the story to see when it was last updated.
LAS VEGAS — Two police officers and a third person were killed by an armed man and woman in Las Vegas on Sunday, according to Las Vegas Metropolitan Police spokeswoman Laura Meltzer.
The attackers first opened fire and killed the officers at about 11:30 a.m. as they were eating lunch at a popular pizza restaurant, she said.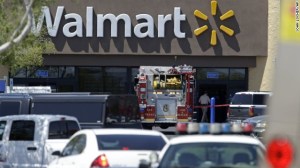 The officers have been identified as Alyn Beck, 42, and 32-year-old Igor Soldo.
Witnesses told police that the gunmen said "this is a revolution."
Police said the suspects took the officers' weapons and ammunition before walking to a nearby Walmart. A bystander was gunned down near the store's entrance.
That's when, police said, the suspects walked to the back of the store and the female suspect opened fire on her accomplice before turning the gun on herself.
Sheriffs at the Las Vegas Metropolitan Police Dept. said the crime scene was "complex" and police had 1,000 or more witnesses.
Walmart spokeswoman Brooke Buchanan released a statement: "We express our deepest condolences to everyone who have been affected by this senseless act of violence."
The store is closed, and the company is working with investigators, the statement said.
Officer back had a wife and three children. Officer Soldo had a wife and a baby.