This is an archived article and the information in the article may be outdated. Please look at the time stamp on the story to see when it was last updated.
CHULA VISTA, Calif. — Chula Vista police Monday were on the lookout for a man suspected of robbing a 7-Eleven at gunpoint twice in one day, firing off one round into a display case in the later holdup.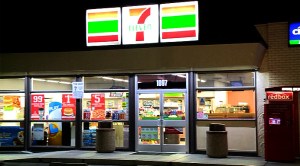 The first robbery at 1097 Broadway occurred about 4:15 a.m. Sunday and the second occurred shortly after 11:30 p.m., according to Chula Vista police.
No one was hurt in either robbery but a lone clerk was shaken up during the second due to the gunfire, police said in a statement. The same clerk who was working in the early morning robbery was working during the second.
The suspect was described as Hispanic, in his 20s, about 5 feet 10 and thin. In both robberies, he carried a shotgun with a pistol grip, police said.
In the earlier robbery, the gunman wore a light blue bandana over his face, a dark hooded sweatshirt, gloves and multi-colored baseball cap. In the second, he wore a black hooded sweatshirt, black baggy jeans and was accompanied by an unarmed female accomplice.
The loss was not disclosed from the first robbery but police said during the second, the gunman got away with cash and cigarettes.
Anyone with information about the robberies was asked to call Chula Vista police at 619-691-5151.