This is an archived article and the information in the article may be outdated. Please look at the time stamp on the story to see when it was last updated.
SAN DIEGO – New details surfaced Monday about a man who opened fire Sunday during a pool party at a University City apartment complex, killing one person and wounding six others before he was shot to death by police.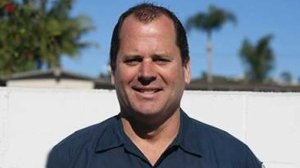 Peter Selis, 49, a resident of the complex, fired into a crowd of partygoers with what was described as a large caliber handgun in the pool area outside the La Jolla Crossroads apartments on Judicial Drive just after 6 p.m. Sunday, according to San Diego police. Selis had reportedly been drinking a beer during the gunfire.
Selis, a mechanic at a Ford dealership, was also deeply in debt and filed for bankruptcy twice, once in 2009 and again in 2015, according to court records.
Four women and three men were struck by bullets. Another man suffered a broken arm while trying to flee, San Diego police Chief Shelley Zimmerman told reporters at the scene late Sunday night.
A police helicopter crew alerted three officers on the ground that Selis had reloaded and was shooting into the partygoers. He eventually turned the gun toward responding police and was killed, possibly in an exchange of gunfire.
"The sergeant and two officers went to the pool area, confronted the suspect who was still armed and an officer-involved shooting took place," Zimmerman said. "The suspect was shot by the officers and the suspect is deceased at the scene."
The victims were all taken to hospitals, some in critical condition. One of the women has since died.
Zimmerman said it was unknown if the shooter knew any of the victims, although at least one also lived at the complex.
It was also unclear if the shooting may have been racially motivated. Selis was white. Six of the shooting victims were black and one was Hispanic, according to the chief.
"At this point, we don't know what the motive is for the shooting," Zimmerman said late Sunday.