This is an archived article and the information in the article may be outdated. Please look at the time stamp on the story to see when it was last updated.
SAN DIEGO — A Scripps Ranch man whose pistol killed a neighbor boy as the fourth-grader played with the weapon two weeks ago has been arrested on suspicion of involuntary manslaughter and other charges, authorities reported Wednesday.
Todd Conrad Francis, 55, turned himself in to San Diego police Tuesday afternoon in connection with the death of 10-year-old Eric Klyaz, SDPD public- affairs Lt. Kevin Mayer said. Francis posted $100,000 bail and was released about 1:30 this morning, according to a jail clerk.
Late on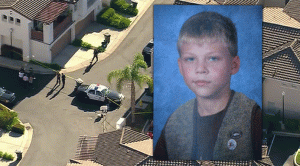 the afternoon of June 4, Eric was handling the 9-mm gun in a garage at a condominium complex in the 10900 block of Ivy Hill Drive along with Francis' 9-year-old daughter when it went off.
The Dingeman Elementary School student suffered a bullet wound to the chest and died at Rady Children's Hospital a short time later, homicide Lt. Jorge Duran said. The other child, whose older brother was baby-sitting her at the time of the shooting, was unharmed.
In addition to the manslaughter charge, Francis was expected to face criminal counts of child endangerment and negligent storage of a firearm, according to police.
An attorney representing the suspect told news crews that her client had kept the gun unloaded in an inaccessible part of the garage, with the ammunition clip secured in a separate spot.
Former federal prosecutor Dave Fox says the defense will have a tough road ahead. "Because the incident is so tragic many people will want to hold someone responsible," said Fox. "Playing dumb and saying I didn't know where the gun was isn't a real defense."