This is an archived article and the information in the article may be outdated. Please look at the time stamp on the story to see when it was last updated.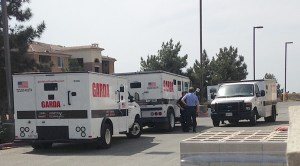 SAN DIEGO — An armored car guard scared off two would-be thieves who tried to rob him in front of a South Bay home improvement store Friday.
The attempted holdup took place shortly after 12:30 p.m. in front of a Home Depot in the 900 block of Dennery Road, according to San Diego police.
A witness told Fox 5 news that he was walking through the store parking lot when he heard someone say, "I don't want to shoot you." He turned to see an armored car guard pointing a gun at two men. The men ran away toward a nearby apartment complex, the witness said.
No one was injured, nothing was stolen and the would-be robbers remained at large, police said.