This is an archived article and the information in the article may be outdated. Please look at the time stamp on the story to see when it was last updated.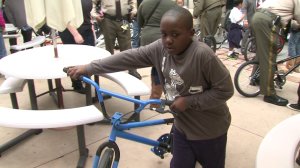 SAN DIEGO – About 125 bicycles refurbished by inmates at the Richard J. Donovan Correctional Facility were given away Tuesday at the Salvation Army Kroc Center.
Inmates in the 25-year-old program at the prison in Otay Mesa have spent most of the past year fixing up the donated bikes.
Daniel Paramo, the prison warden, said the inmates eagerly volunteer to help out.
The youngsters who received the bikes were pre-selected by the San Diego Sheriff's Department, District Attorney's Office, school officials in National City and Kroc Center leaders.
Food and toys were given away to needy families and youth at a separate event Tuesday.
The San Diego and Imperial Counties Labor Council and United Way conducted their annual distribution of toys and food to 500 pre-selected families at rainy Qualcomm Stadium.
The organizations handed out turkeys, food bags, toys and bikes to families hit by unemployment or under-employment.
The items were donated by workers and area unions, according to the labor council.