This is an archived article and the information in the article may be outdated. Please look at the time stamp on the story to see when it was last updated.
SAN DIEGO -- A local group dedicated ending violence in San Diego neighborhoods held its first ever candlelight vigil for a police officer Wednesday.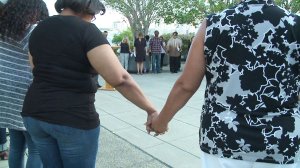 The group is called DOVE -- Dreaming Of a Violence-free Everywhere. Members dedicated an hour Wednesday evening in front of the San Diego Police Headquarters to honor Officer Johnathan De Guzman. The ceremony opened with a prayer for peace and was followed by speeches and songs.
"Most of the time, it's just community-member-on-community-member violence, but we see police officers as part of our community," said Bishop Cornelius Bowser, who helped organize the event.
The emotional service took place just feet away from a growing memorial, where people have been leaving notes and flowers in remembrance of De Guzman.
Family members of the fallen officer showed up to the vigil to thank the community for its support.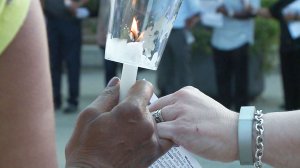 "He came home one day without his shoes. [They] asked Johnathan where are the new shoes I just bought you? [He] said, 'Mom, I gave it to a child that needed it more than I did.' That's the kind of individual Johnathan is, and that's the Johnathan I'll always remember forever," said De Guzman's cousin Joe Malabanan.
Afterward, family members attended a viewing of De Guzman in the South Bay.
During the vigil a couple shared a story of how officer De Guzman helped them stating, "This wasn't just an attack on police - it was on the community. The whole community is hurting."