This is an archived article and the information in the article may be outdated. Please look at the time stamp on the story to see when it was last updated.
SAN DIEGO – A 16-year-old fisherman witnessed a great white shark kill a seal and then circle his fishing boat off the coast of La Jolla this week.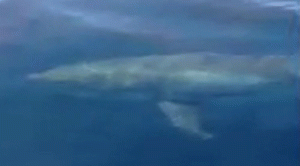 Charlie Saraspe showed Fox 5  video Wednesday taken with his cellphone of the shark thrashing his tail and swimming next to his boat.
"He rubbed up against my boat and I was thinking, 'This shark is nearly as big as my boat!'" said Saraspe. "I could have pet him. It was like he wanted me to pet him."
Saraspe said he was fishing for yellow tail about 2 miles off the coast of Wind and Sea Beach when he encountered the shark.