This is an archived article and the information in the article may be outdated. Please look at the time stamp on the story to see when it was last updated.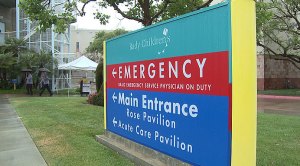 VISTA, Calif. — A 14-month-old girl was hospitalized Friday after being run over by a vehicle driven by her uncle in Vista, authorities said.
The girl was struck in her 26-year-old uncle's driveway in the 200 block of Knoll Road about 11 a.m. Thursday, but she is expected to survive, according to San Diego County sheriff's Deputy Brenda Sipley.
The man had walked out of his residence and gotten into his vehicle unaware that the front door had been left ajar and his niece had followed him outside, Sipley said.
"As he started backing out of the driveway, the toddler was struck, knocked to the ground and pinned under his vehicle," she said. "The child's grandfather jacked up the right side of the vehicle, freeing the toddler."
Paramedics flew her to Rady Children's Hospital to treat non-life threatening injuries, Sipley said.