This is an archived article and the information in the article may be outdated. Please look at the time stamp on the story to see when it was last updated.
VISTA, Calif. – Vista Adult School classes could be cancelled if Governor Jerry Brown's new state budget including reallocating funding for adult school programs to community colleges is approved.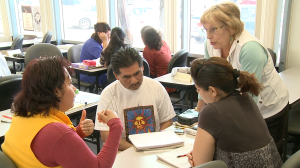 Anna Ramirez is one of 17,000 students at Vista Adult School. She attends an English as a second language class four times a week at the Sunset Drive campus.
"I'm learning to speak more English and how to get better in my writing," said Ramirez.
The state's adult school programs are funded by K-12 districts, however, under the governor's new proposal it would create a $300 million grant for community college districts to provide adult-education programs.
"The logic behind the governor's proposal is that community college already serves adults, therefore they're better positioned to serve adults," said Ebon Brown, Principal of Vista Adult School.  "For the priority of adult Ed to shift to the community colleges it's just not feasible for a lot of our students."
Brown said not only will access be a problem, but also cost.
"For these students, we're local it's easy for them. Parking is free. There's no tuition costs," the principal said.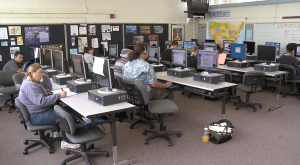 Brown added when it comes to the two learning institutions, the goals are vastly different.
"The community colleges are more based on credit taking courses," said Brown. "The majority of our programs are really set for students to build skills in order to survive."
Even before the proposal is approved, students said adult school in community college is a big fail.
"It's too far for me," said Claudia Sanchez.  "I don't like that idea, I like to keep this school."
"I went to college before and it's totally different," said Ramirez, pointing out that at the adult school she knows she can talk to her teacher.
"Over there the teachers don't do that," said Ramirez.  "I feel more comfortable here."
Exact effects of the budget impact are unclear, but many districts are already preparing.  Vista Unified School District has issued 82 layoff notices.