This is an archived article and the information in the article may be outdated. Please look at the time stamp on the story to see when it was last updated.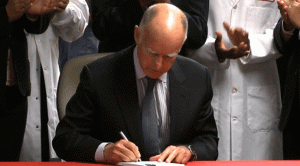 SACRAMENTO — Gov. Jerry Brown on Thursday will hold signing ceremonies in Los Angeles and Fresno to approve AB 60, which will allow people in the country illegally to receive a permit to legally drive in California, his office announced Wednesday.
Brown will join immigrant rights advocates, community leaders, law enforcement officials and local lawmakers in the ceremonies to sign the bill, which the announcement said will "enable millions more Californians to legally drive on the state's roadways."
The bill by Assemblyman Luis Alejo (D-Watsonville) was changed at Brown's request to meet requirements of the federal Department of Homeland Security, including a distinguishing notation of DP, for driving privilege, on the permits, instead of the normal DL, for driver's license.
A notice on the cards will say: "This card is not acceptable for official federal purposes. This license is issued only as a license to drive a motor vehicle. It does not establish eligibility for employment, voter registration, or public benefits."
The law is to take effect Jan. 1, 2015, to allow the DMV to develop a process for accepting alternative documentation.