This is an archived article and the information in the article may be outdated. Please look at the time stamp on the story to see when it was last updated.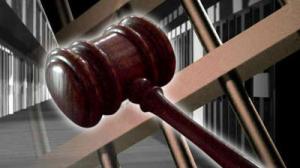 SACRAMENTO — Gov. Jerry Brown is back on the doorstep of the U.S. Supreme Court , seeking an order to let him go ahead with contracts that would send thousands more inmates to private prisons out of state.
The governor notified federal judges in California on Thursday that he is appealing their order temporarily blocking those contracts while the judges force California to explore other possible solutions to prison crowding. The governor's lawyers at the same time announced a similar appeal with the 9th Circuit Court of Appeals that would be taken up only if the Supreme Court refuses to hear Brown's case.
The court documents cite California's recent legislation approving expansion of private prison contracts along with continued state funding of county probation programs meant to lower crime rates. Based on that law, Brown had asked federal judges for an extra three years to deal with prison crowding. Instead, they approved only a two-month delay, until late February, and ordered the state into negotiations with prisoners' lawyers.
"The state is appealing to protect California's right to implement SB 105, in the event that California is not granted additional time to comply with the court-ordered prison population cap," corrections spokeswoman Deborah Hoffman said in a written statement.