This is an archived article and the information in the article may be outdated. Please look at the time stamp on the story to see when it was last updated.
SAN DIEGO — Gov. Jerry Brown ordered all California counties to issue marriage licenses to same-sex couples once a lower court acts to implement Wednesday's Supreme Court ruling, which will open the path for the weddings to resume.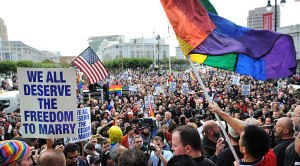 "After years of struggle, the U.S. Supreme Court today has made same- sex marriage a reality in California," Brown said. "In light of the decision, I have directed the California Department of Public Health to advise the state's counties that they must begin issuing marriage licenses to same-sex couples in California as soon as the Ninth Circuit confirms the stay is lifted."
According to Brown's office, the governor consulted with Attorney General Kamala Harris, who advised that county clerks must begin issuing licenses to same-sex couples as soon as the stay is lifted. When the court does lift the stay, the state Department of Public Health will issue a notice to county officials throughout the state.
It could be weeks before weddings can resume across California. The Supreme Court's decision will be finalized in 25 days. After that, the 9th Circuit Court of Appeals would lift its stay on U.S. District Judge Vaughn R. Walker's 2010 ruling finding that Proposition 8 — which banned gay marriage in California — was unconstitutional, most experts said.