This is an archived article and the information in the article may be outdated. Please look at the time stamp on the story to see when it was last updated.
SAN DIEGO — Girl Scout troop 3444 is working hard selling their cookies outside a Kearny Mesa Walmart, but as well as they do, they can't compete with a fellow Girl Scout in Northern California who is selling her boxes outside a pot shop.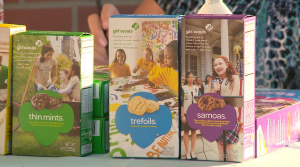 Earlier this week, 13-year-old Danielle set up her cookies outside a marijuana dispensary in San Francisco and in two hours she sold 117 boxes.
The Girl Scouts in San Diego do not agree with selling cookies outside a pot dispensary. They issued a statement saying "We do not allow girls to sell cookies outside adult-oriented businesses."
Pam Stevens, a Girl Scout mother volunteer with troop 3444, doesn't agree with Danielle selling the cookies outside a marijuana dispensary, but she does applaud her ingenuity.
"They're selling the cookies, not a place that's illegal. If people are going there for a drug that's prescribed, I don't see anything wrong with it," said Stevens. "I certainly believe it's for a good cause, it's for the Girl Scouts."
"I think it's probably a little creative," said Stevens.
Others are posting comments online about Danielle calling her "genius" and "the smartest girl ever."