This is an archived article and the information in the article may be outdated. Please look at the time stamp on the story to see when it was last updated.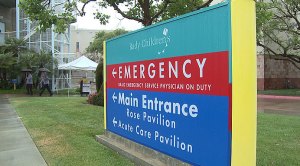 RAMONA, Calif. — An investigation was underway Friday into the death of a 5-year-old girl who was killed when she was accidentally run over by a minivan that was being backed up by her mother in Ramona.
The accident happened about 5:30 p.m. Thursday in the 3306 block of Carnation Road, near Main Street, sheriff's officials said.
While the girl's 42-year-old mother was backing her 2000 Chevrolet Astro Van, the child ran behind the van to open the driveway gate for her mother, investigators said. The mother told deputies that she didn't see her girl, but she felt a bump at the rear of the van and realized she may have hit her. She pulled forward, apparently running over the little girl again, investigators said.
Paramedics airlifted the child to Rady Children's Hospital, where she died from her injuries, authorities said.