This is an archived article and the information in the article may be outdated. Please look at the time stamp on the story to see when it was last updated.
OCEANSIDE, Calif. — The carcass of a 14-foot oarfish that washed ashore in Oceanside was cut into sections and taken away by scientists for examination.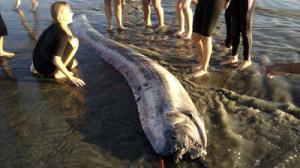 Oceanside police responding to Friday's discovery contacted SeaWorld, the Scripps Research Institute and the National Oceanic and Atmospheric Administration, which carted the carcass off.
It was the second rare find in a week. Last week, an 18-foot oarfish was found dead off Catalina Island.
Rick Feeney, ichthyology collections manager at the Natural History Museum of Los Angeles County, told The Times last week that giant oarfish — the world's largest bony fish — only "wash up occasionally" because they're typically in deep, open ocean.
When oarfish come closer to shore, Feeney said, it may be a sign of distress. They could be starving, disoriented or in shallower water because of a storm.
"They're usually in the deep ocean, away from land," Feeney said.
Giant oarfish get up to about 27 feet maximum, he said, adding that stories of them reaching 50 or more feet haven't been verified.