This is an archived article and the information in the article may be outdated. Please look at the time stamp on the story to see when it was last updated.
RANCHO SANTE FE, Calif. – A San Diego real estate agent said buying a home in San Diego is becoming increasingly difficult as buyers face cash buyers. He's offering ways to get your offer noticed by sellers.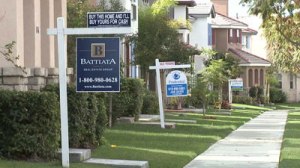 Daniel Beer is helping his clients looking to purchase a home get ahead of their competition with some aggressive tactics.
"I've been involved with them where sometimes it's 20, 30, 40 offers," said Beers, Director of the Daniel Beer Group.
The first thing he advises clients to do is to write a cover letter.
"You want to have a nice strong direct cover letter," said Beer. "Hopefully a real estate agent is preparing that for you."
Beer said the idea is to aim for the heart.
"You really do have to get strategically personal to make a connection with that seller and hopefully you can gain a little bit of an emotional advantage," said Beer.
In addition to the letter, Beer said include a face with finances.
"We'll actually have our lender create a quick little video at their desk," said Beer.
The lender said the video adds another level of stability for the buyer, according to Todd Pianin, Senior Managing Director at Samuel Scott Financial Group.
"We talk about the qualification of the buyer, how strong they are and how they can close on time," said Todd Pianin. "The seller can feel more comfortable that it's not just going online and getting a loan who knows if they're going to close on time."
When it comes to buying a home, Beer said competition is through the roof.  It's about getting the attention of the seller.  Even then, it's still not a guarantee to seal the deal.
"What you have is a very good chance of is to make their final three or four to have the attention of the seller to be considered, but it's still not a sure thing," said Beer.