This is an archived article and the information in the article may be outdated. Please look at the time stamp on the story to see when it was last updated.
HILLCREST, Calif. – Gay rights supporters took to the streets of Hillcrest Wednesday evening to celebrate the Supreme Court decision on DOMA.
The crowd gathered at the corner of University Avenue and Normal Street where a large pride flag flies above the community. After a rally at the intersection, the crowd marched down University Avenue.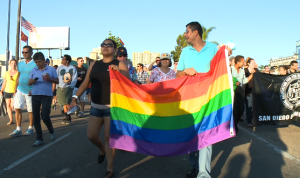 Among the crowd were Curt Sumner and Tom Tipps, a gay couple who have been together for 21 years. They married in 2008 during the window of opportunity in California.
"The day that we were married literally was the happiest day of my life," said Tipps. "It was a joy that I felt, that I had never believed was possible."
Tipps said he feels validated by the Supreme Court ruling.
"Having California to be able to take the steps it has and the Federal government taking the steps it has now is the next step in making things so much more real for us," said Tipps.
Many people said it was a day they'll never forget.
"This will go down as a day that a lot of people remember," said Sumner. "They are going to think back on where they were, who they were with, who they were married to, who they loved on this day for many, many years."
For Debbie Chaddock and Tiffany Monticino, who also married in 2008, the ruling means practical changes in their lives.
"We won't have to fill out five tax returns every year," said Chaddock. "Pay her tax preparer less money. If something happens to me, she'd be able to get my social security. I won't have to pay taxes on benefits, things like that. And just being able to use the word married is going to be really, emotionally it's a big lift for us."
Still supporters said they understand the fight for gay marriage and full equality has a long way to go.
"There was a time in my life when I was married to a man and it wasn't as difficult," said Monticino.
As difficult as it may be, they said it's a fight worth fighting.