This is an archived article and the information in the article may be outdated. Please look at the time stamp on the story to see when it was last updated.
SAN DIEGO – A disk jockey fired by the Padres following a weekend national anthem fiasco at Petco Park deserves a second chance, the San Diego Gay Men's Chorus said Tuesday.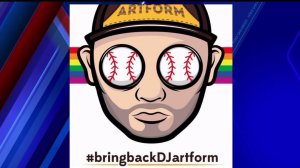 DJ Artform, whose real name is Art Romero, was fired after he mistakenly played a recording of the national anthem at Saturday night's Dodgers-Padres game. About 100 members of the San Diego Gay Men's Chorus had gathered on the field to sing, but Romero pushed the wrong button. The chorus was then escorted off the field without singing. The mistake was what Romero called one of the worst moments in his life. After investigating the incident, the Padres fired him.
"I can't tell you how much I apologize to San Diego, the community and everybody involved with this whole fiasco," Romero said Tuesday on the FOX 5 Morning News.
After Romero's apology, the chorus released a statement praising the Padres for their efforts to work with the LGBT community and asking the team to give the disk jockey a second chance.
"We applaud the San Diego Padres organization and its chief executive Mike Dee for its ongoing efforts to make something good come out of unfortunate recent events. We have met with Mr. Dee and he has agreed to meet with and work closely with the LGBT community to bring our communities together with constructive, positive change.
We also would like to publicly accept the sincere apology of DJ ARTFORM and recognize his support for the LGBT community and equality for all people. We do not wish to see him lose his job with the San Diego Padres and kindly ask the Padres to reinstate him. Everyone deserves a second chance."
The Padres did not immediately respond to the statement.