This is an archived article and the information in the article may be outdated. Please look at the time stamp on the story to see when it was last updated.
SAN DIEGO — For many same-sex couples the current fight to strike down the Defense of Marriage Act isn't just about having their relationship recognized by the federal government, it's about money.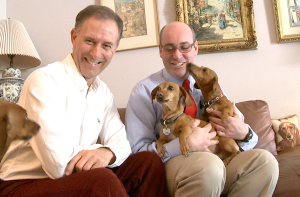 Like many other heterosexual married couples, Kevin Beiser and his life partner of eight years Dan Mock share a home and their finances, but every year come tax time, they're reminded of where they stand in the eyes of Uncle Sam.
"It's a process we have to go through every year and we do have that feeling of being second class citizens," said Beiser. "We pay more on taxes than everybody else."
The Defense of Marriage Act currently being debated in the US Supreme Court does not allow for domestic or life partners of the same sex, like Beiser and Mock, to file their taxes jointly as they are able to do in California under a state registered domestic partner law.
DOMA serves as a barrier for laws to be made at the federal level, that would allow couples like them access to federal benefits married heterosexual couples have, especially when it comes to taxes.
"It pays to be married," said San Diego tax attorney Ronson J. Shamoun. "With the transfer of assets, inheritance and IRA's that can be transferred tax free, there are a lot of financial benefits to being married."
Under the current federal law, Beiser and Mock are forced to file their federal income taxes individually, which they say ends up costing more.
"$8,000 to $10,000 more in taxes, we've had to pay," said Beiser, who's serves as board member in the San Diego Unified School District.
His life partner, Mock works for Meteropolitan Transit System as a bus driver.
They said striking down DOMA wouldn't only make things fair for them tax-wise; it would also help them plan for the future.
"Social security, survival benefits which we're denied," said the San Diego couple.
Both are also worried about their home, which they own.
"Instead of being able to inherit your partner's half, you can't do that, so you have to sell the house, so the money ends up going to the government," said Beiser. "I just hope that the nine people that get to decide the fate of millions and millions of people in our country will decide on the right side of justice."