This is an archived article and the information in the article may be outdated. Please look at the time stamp on the story to see when it was last updated.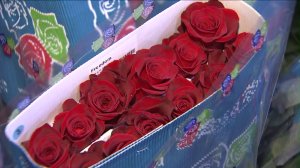 LOS ANGELES – Danny Leclair snapped a photo of two toy grooms holding hands. He then sent the photo via email to his longtime partner, Aubrey Loots, with a question:
"Do you want to get married on a Rose Parade float?"
Loots agreed, and on New Year's Day the Los Angeles couple will become real-life wedding cake toppers when they say "I do" on a cake-shaped float in the 125th Tournament of Roses Parade.
The AIDS Healthcare Foundation's float, "Living the Dream: Love Is the Best Protection," was created to celebrate victories in 2013 for gay marriage advocates, including Supreme Court decisions upholding the repeal of California's Proposition 8 and striking down a key part of the Defense of Marriage Act.
Foundation spokesman Ged Kenslea said the organization supports legally sanctioning same-sex marriage because it encourages more stable relationships among gay men as well as behavior that will prevent the spread of HIV.
"We believe that marriage saves lives," he said.
The Pasadena Tournament of Roses has received complaints from people opposing the wedding. Some took to the organization's Facebook page to voice their anger.
"I am a 79 year old Los Angeles native and have not missed a parade since I was about 4 years old. I have watched my LAST one due to your decision to allow this unbiblical, gay marriage to take place on one of your floats," one man wrote.
Others expressed concern about the event not being suited for families that may tune in to watch the annual New Year's Day celebration. The popular float parade is watched by people around the world.