This is an archived article and the information in the article may be outdated. Please look at the time stamp on the story to see when it was last updated.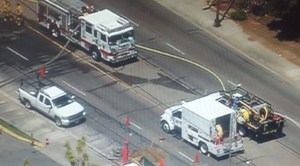 ESCONDIDO, Calif. — A gas leak forced a several-hour closure of a business-area thoroughfare in eastern Escondido Monday.
East Valley Parkway was closed to pedestrian and vehicle traffic between Rose Street and Midway Drive about 9:30 a.m. Fire crews and San Diego Gas & Electric personnel were called in to deal with the problem, Sgt. Kevin Toth said.
The utility workers had the leak fixed by about 11:30 a.m., and the roadway reopened a short time later, police reported.