This is an archived article and the information in the article may be outdated. Please look at the time stamp on the story to see when it was last updated.
SAN DIEGO — An imported-clothing merchant was sentenced in San Diego Monday to more than two years in prison for evading customs duties on more than $30 million in Chinese-made garments.
U.S. District Judge Michael Anello also ordered 39-year-old Sunil Jiwat Mirwani of Los Angeles to forfeit his interest in more than $30,000 in cash, the contents of a Hong Kong-based bank account and an inventory of more than 220,000 pairs of blue jeans valued at more than $1 million.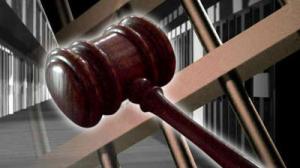 In addition, Anello ordered Mirwani's corporation, M Trade Inc., to serve five years' probation.
According to evidence presented at trial in June 2012, Mirwani hired a group of San Diego-based businessmen and logistics professionals to arrange for shipments of Chinese-made merchandise from China to the Port of Long Beach.
When the goods arrived, Mirwani and his accomplices would classify the merchandise as "in bond" — a customs classification meaning that they had to be shipped directly to Mexico.
However, rather than complete the shipments as promised, the conspirators forged documents and falsified database entries, allowing them to send the merchandise to warehouses in the Los Angeles area, according to the U.S. Attorney's Office in San Diego.
Mirwani would then market his jeans, shorts and skirts throughout the United States, effectively tax-free, prosecutors told jurors. In so doing, he could sell more clothes at cheaper prices than his law-abiding competitors, including domestic American manufacturers of similar goods who, unlike Mirwani, could not rely on cheap Chinese labor to keep costs low.
Mirwani profited handsomely from the scheme, laundering his ill-gotten gains through a complex web of international wire transfers, court documents state. According to evidence introduced at trial, Mirwani transmitted nearly $10 million from M Trade's bank account to the account of Mirvana International, a Hong Kong-based company that Mirwani shares with his Hong Kong- based twin brother.
Mirwani also transmitted similar sums to the Mirvana International account through a series of intermediary accounts in the United States and Mexico, and even sent money from M Trade's account directly to accounts in China. The international wire transfers served to hide Mirwani's ill-gotten gains as well as to help fund future fraudulent shipments, according to prosecutors.
Mirwani and M Trade were indicted in June 2012, following a lengthy wiretap investigation. A year later, they were convicted at the conclusion of a weeklong jury trial.
Mirwani and M Trade were two of 11 defendants charged in July 2012 as part of a larger conspiracy to fraudulently import foreign-made textiles, cigarettes, snack foods and salmonella-infected produce.
Over the past year, several other defendants have pleaded guilty and been sentenced for their role in the scheme, including Gerardo Chavez, former president of the San Diego Customs Brokers Association. He is serving a 37- month prison sentence.
Two other men charged in the case, Joel Erasmo Varela Gonzalez and Jose Porter, remain at large.