This is an archived article and the information in the article may be outdated. Please look at the time stamp on the story to see when it was last updated.
SAN DIEGO — A fire in a garage in Mira Mesa destroyed one car, damaged another and caused $225,000 in damage, fire officials said Wednesday.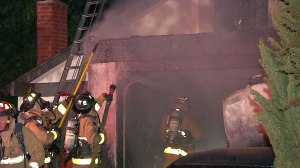 The accidental fire at 8954 Taurus Place was reported at 10:42 p.m. Tuesday, and crews had it knocked down in less than 15 minutes, San Diego Fire- Rescue Department spokesman Lee Swanson said.
Swanson said the fire destroyed a car inside the garage and damaged one parked in the driveway. The house sustained smoke damage and the American Red Cross was called to assist with finding temporary housing for the three displaced adult residents.
One of the residents was treated at the scene for smoke inhalation, Swanson said.